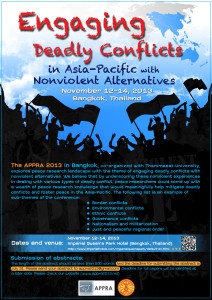 APPRA 2013 Call for Papers
Engaging Deadly Conflicts in Asia-Pacific with Nonviolent Alternatives
November 12-14, 2013
Bangkok, Thailand
The Asia-Pacific Peace Research Association (APPRA) is delighted to announce a regional conference of scholars, educators and peace-builders. The general theme of the 2013 conference is "Engaging Violent Conflicts in the Asia-Pacific with Nonviolent Alternatives."
In the beginning of the second decade of the twenty-first century, deadly conflicts continue to plague the world with loss of lives and destructions. In 2012, there were 26 deadly conflicts which continue until the present, an increase of two cases from 2011. (The Ploughshares Monitor Volume 33 Issue 3, 2012). Though deadly conflicts in East Asia seems to be declining, Thailand is facing three different deadly conflicts simultaneously- governance conflict, border conflict with Cambodia, and ethnic conflict in the deep South which together claimed more than 5,000 lives in the past decade. (Tonnesson and Bjarnegard –forthcoming 2013).
It is important to stress that from a peace research perspective, the Asia-Pacific is rich with stories of peoples who choose to engage deadly conflicts with nonviolent alternatives. A cursory glance at the Asia-Pacific stories of nonviolent conflict in the past five decades include: Gandhi's legacies and Abdul Ghaffar Khan's nonviolent red shirts against British imperialism; democratic movements in the Philippines, China, Burma, West Papua, Nepal, Tibet, and Thailand, among many others; the anti-dam movements in Tasmania, India and Thailand. Though the APPRA has organized its bi-annual meetings since 1980, and there have been research papers dealing with nonviolent actions in those meetings, the APPRA 2013 in Bangkok will mark the very first time APPRA peace researchers will explore peace research landscape with the theme of engaging deadly conflicts with nonviolent alternatives. We believe that by underscoring these nonviolent experiences in dealing with various types of deadly conflict, peace researchers could come up with a wealth of peace research knowledge that would meaningfully help mitigate deadly conflicts and foster peace in the Asia-Pacific.
Suggested sub-themes
We welcome all kinds of papers and presentations concerning peace and nonviolent conflict transformation in the Asia-Pacific, but the general theme will send a strong message of our resolve to the various audiences and the general public in the Asia-Pacific. The following list is an example of sub-themes of the conference:
• Border conflicts: what are experiences of people and governments in the Asia-Pacific in dealing with disputes over territory and struggles in border zones? Have conflicts been largely engaged militarily or through dialogue? How does militarization of a conflict shape the path of conflict resolution?
• Ecological conflicts: how have people and governments in the Asia-Pacific handled conflicts arising from management and distribution of natural resources? How do different mechanisms of conflict resolution / transformation affect its dynamics?
• Ethnic conflicts: what are experiences of people and governments in the Asia-Pacific in coping with conflicts fuelled by differences in ethnic identity? How could ethnically divided communities work together to end a cycle of violence and embark on reconciliation?
• Governance conflicts: what are experiences of people and governments in the Asia-Pacific in dealing with conflicts over a preferred form of governance? How do violent and nonviolent natures of the struggle result in different scenarios of post-transition?
• Nationalism and Militarization: what are root causes of rising nationalism and militarization in the region? How do we overcome and reverse the trend?
• Just and peaceful regional order: the Asia-Pacific is the focus of the competition among major powers. How do we envisage our nonviolent alternatives to power politics and hegemonic competition?
Submission of abstracts
For those who are interested in presenting their papers at the conference, we ask you to send us an email that contains an abstract of your paper. The length of the abstract should be less than 200 words. And the deadline for submitting the abstract is July 31. Please send your abstract to our conference secretariat, at [email protected]. Deadline for full papers will be identified at a later date.