The Photographs of Day 1 are available at:
https://drive.google.com/open?id=0B_k-0ugv37khUWtjMkE2U2plZVE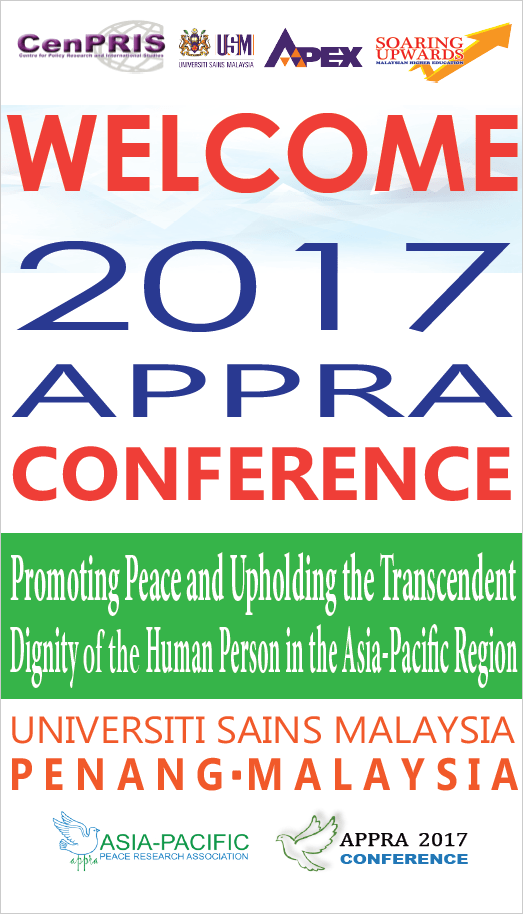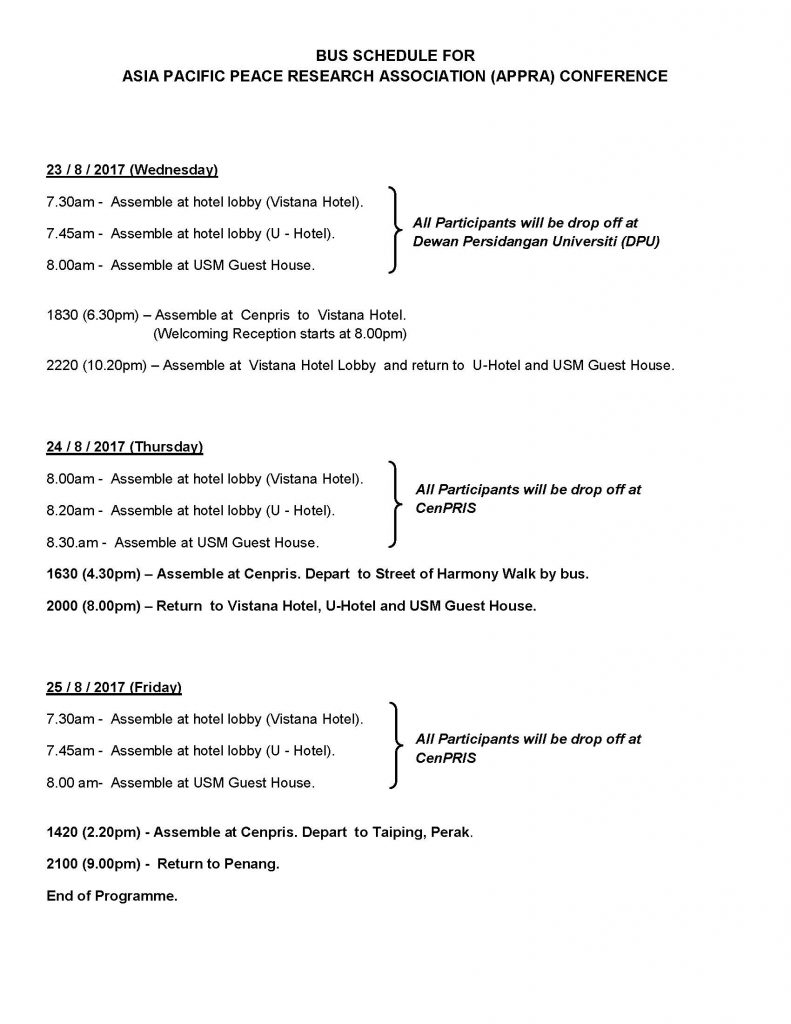 ASIA PACIFIC PEACE RESEARCH ASSOCIATION (APPRA) CONFERENCE
23 AUGUST 2017 (Wednesday)
0800 – 1700
Registration

Venue: Dewan Persidangan Universiti

0900 – 1000
Opening Ceremony

Venue: Dewan Persidangan Universiti

Welcome Address

Assoc. Prof. Dr. Azeem Fazwan Ahmad Farouk

Director, Centre Policy Research and International Studies

Address

Dr. Janjira Sombatpoonsiri

Co-Secretary-General, Asia-Pacific Peace Research Association
Faculty of Political Science,Thammasat University

Address & Official Opening

Dato' Prof. ( Dr.) Anwar Fazal

Director, Right Livelihood College, Malaysia

Photo Session, Refreshments / Press Conference

Venue: Dewan Persidangan Universiti

1000 – 1040
KEYNOTE 1

The Politics of Compassion in an Age of Ruthless Power: The Promise of Peace Research for The Asia Pacific Region

Professor Dr. Kevin Clements

Chair and Director,

The National Centre for Peace and Conflict Studies,

University of Otago, New Zealand

Venue: Dewan Persidangan Universiti
Chair: Assoc. Prof. Dr. Azeem Fazwan Ahmad Farouk

1040 – 1300
1st Plenary

"US Military vs Asian Lands and People"

Panel Coordinator: Professor Dr. Patrick Hiller

Venue: Dewan Persidangan Universiti

1040 – 1300

PANELISTS:

1. Olivier Urbain

Musicking for Human Dignity in The Asia-Pacific Region: The Min-On Music Research Institute For "Music in Peacebuilding"

2. Yoko Urbain

Peace Through Endeavors for Interconnectedness: Tourism, Education and The Arts in The Asia-Pacific Region

3. Yasushi Ikeo

Rapid Construction of U.S. Bases In Okinawa

4. Jude Lal Fernando

The US's Pivot Towards Asia and Militarization of Islands: Challenges of the civil society in Peacebuilding

5. Aslam Khan

War on Terror and Humanitarian Crisis in Afghanistan: A Paradox of Liberalism And Realism

1300 – 1400
Lunch @ Dewan Persidangan Universiti
1400 – 1440
KEYNOTE 2

Nonkilling: Asia as a Peace Research Agenda

Professor Dr. Chaiwat Satha-Anand

Peace Information Centre, Thammasat University, Thailand

Venue: Main Conference Hall, CenPRIS
Chair: Emeritus Professor Dr. Omar Farouk Sheikh Ahmad

1440 – 1540
1st Parallel Session "Northeast Asia"

Venue: Delima Meeting Room, CenPRIS

Chair: Assoc. Prof. Dr Reevany Bustami

PANELISTS:

1. Yasuko Claremont

The Rise of Citizen Power in Postwar Japan

2. Yoko Sasaki

Ideas of Equality and Diversity in the context of 'Colonial Responsibilities' for Korean Education in Japan

3. M. Cheong Stella

Citizenship Education and Peacebuilding: Lessons from Young North Korean Migrant's Life Histories

2nd Parallel Session "Gender"

Venue: Nilam Meeting Room, CenPRIS

Chair: Professor Dr.Vidya Jain

PANELISTS:

1. Kana Takamatsu

Gender and Peace: Critical Analysis of Implementation of UNSR1325

2. Ashu Pasricha

Women: A Bridge Builder and Peacemaker

1540 – 1740
APPRA General Meeting @ Main Conference Hall, CenPRIS
2000
Welcoming Reception @ Vistana Hotel
24 AUGUST 2017 (Thursday)
0900 – 0940
KEYNOTE 3

The Hiroshima – Nagasaki Process

Professor Dr. Katsuya Kodama

Co-Secretary-General

International Peace Research Association (IPRA), Japan

Venue: Main Conference Hall, CenPRIS
Chair : Professor Dr. Ahmad Fauzi Abdul Hamid

0940 – 1140
3rd Plenary

"Peace Education Through Peace Museum"

Panel Coordinator : Professor Kazuyo Yamane

Venue: Main Conference Hall, CenPRIS

PANELISTS:

1. Kazuyo Yamane

The Present Situation of Museums For Peace in Japan and Peace Education Through Grassroots Museums for Peace

2. Yuchao Wang, USA

Self-Formation: A Philosophical Perspective on The Reconciliation Process at Peace Museums in Japan and China

3. Koodo Chung/ Hyeyeon Kim

Tragic Memories of No Gun Ri Victims' community and Review on Their Efforts for Human Rights Enhancement, Social Healing and Reconciliation

4. Roy Tamashiro

Lessons from Jeju 4.3: Social Healing & Reconciliation at Sites of Massacre

5. Ahmad Murad Merican

Representing Colonialism: A Museum reminding us "It is not over. "

0940 – 1140
3rd Parallel Session "Politics"

Venue: Nilam Meeting Room, CenPRIS

Chair: Dr. Manish Sharma

PANELISTS:

1. Manish Sharma

Role and Working of Political Parties in Safeguarding Democracy:A Study from Ghandian Perspective

2. Sri Nuryanti

Ethic Code of Political Party: Challenges to enforce better Culture of Political Parties

3. Yutaka Hayashi

Conflict-affected Country for who? An analysis of perception on Afghanistan

4. S. Prisca Delima

Economic creative movements to increase tolerance measures in Sustainable Peacebuilding in Indonesia

5. F.M. Tunvir Shahrier / Rifah Rafia Monir

Engagement in Association and the state of Protestation: A Study on RMG Labor unrests in Bangladesh in 2014

4th Parallel Session "Education"

Venue: Delima Meeting Room, CenPRIS

Chair: Dr. Tan Yao Sua

PANELISTS:

1. Herbert Rosana

Promoting Peace Education in The Security Sector: The Bicol University Experience

2. Ryozo Teruoka

How Japanese Society Can Overcome Racism: Role of Formal Education and Other Public Institutions

3. Momoko Yamamoto

Peace Studies in University Museum: Focusing on Observations and Awareness of Children

4. Lokanath Mishra

Executing Peace Education in Secondary Schools of Odisha: Perceptions of Stake Holders

1140 – 1300

4th Plenary

''Regional Approaches in Promoting Religious Tolerance and Moderation''

Panel Coordinator: Professor Mohd Kamarulnizam Abdullah

Venue: Main Conference Hall, CenPRIS

Chair: Sri Nuriyanti

PANELISTS:

1. Mohd Kamarulnizam Abdullah

Neutralizing Religious-Inspired Terror Groups: Any Alternative Approaches Available?

2. Nasharudin Mat Isa

The Global Movement of Moderates as A Regional Approach in Promoting Religious Tolerance and Moderation

3. Yusuf Roque Morales

Regional Approaches in Promoting Religious Tolerance and Moderation

1300 – 1400
Lunch @ CenPRIS / APPRA Council Meeting @ Main Conference Hall, CenPRIS
1400 – 1440
KEYNOTE 4

Doing Peace Locally & Globally – The Right Livelihood Way

Dato' Prof. ( Dr.) Anwar Fazal

Director, Right Livelihood College, Malaysia

Venue: Main Conference Hall, CenPRIS
Chair: Prof. Dato' Dr Ahmad Murad Merican

1440 -1640
5th Parallel Session "Inclusiveness"

Venue: Delima Meeting Room, CenPRIS

Chair: Professor Dr. Abdus Sabur

PANELISTS:

1. Abdus Sabur

Addressing Polarization and Promoting Inclusive Societies

2. Chalalai Taesilapasathit

Emphatic Learning for Young People as a strategy for Peacebuilding in ASEAN Community

3. Ekraj Sabur

Creating Sociopolitical Spaces from Below: Roles of Ethnic Karen's Civil Society in Myanmar's Peace Process

4. Padtheera Narkurairattana

Non-Killing Religion: Challenging Choices for Co-Existence In Multi-Religious Society, Southern Thailand

6th Parallel Session "Southeast Asia"

Venue: Nilam Meeting Room, CenPRIS

Chair: Dr. Janjira Sombatpoonsiri

PANELISTS:

1. Tatsushi Arai

Bi-communal Development for Buddhist-Muslim Confidence-building: Conflict Transformation in Western Myanmar

2. Manjushri Sharma

Regional Organizations and their role in Peacebuilding: A case study of Association of Southeast Asian Nations (ASEAN) and South Asian Association for Regional Cooperation (SAARC)

3. Chaowarit Chaosangrat

The Success of Violence Reduction in Medellin, Colombia; Lesson Learned for Southeast Asia

4. Zuliana Azwa Binti Zulkifly

Agro-Terrorism: An Empirical Study of The Preparedness in Malaysia

1640
SOH Walk
25 AUGUST 2017 (Friday)
0830 – 0910
KEYNOTE 5

Peace Starts with Me – Lessons from a Hibakusha

Tan Sri Dato Professor Dzulkifli Abdul Razak

Chairman, Board of Directors,

Universiti Sains Islam Malaysia

Venue: Main Conference Hall, CenPRIS

Chairman: Professor Emeritus Dato' Dr Ghouse Nasaruddin

0910 – 1130
5th Plenary

"Kampung Mizan : Re-thinking the idea of development"

Panel Coordinator: Assoc. Prof. Dr Mahazan Abdul Mutalib

Venue: Main Conference Hall, CenPRIS

0940 – 1140

Chair: Prof. Emeritus Dato' Dr. Hood Haji Mohd Salleh

PANELISTS :

1. Mahazan Abdul Mutalib / Suria Hani

The Contest of Values and Physical Development of Kampung in Manifesting Community Life-Style: A Case Study of Kampung Baru?

2. Elina Mohd Husini

The Future Survival for Conserving and Regenerating a Village Towards a Peaceful and Sustainable Life

3. Zainurul Aziz A. Rahman

Visualizing the Kampungs in Penang

4. Siti Nubailah Mohd Yusof

The Context of Kampung, Quality of Life, Wellbeing among Elderly People

5. Ramiaida Darmi

Re-Thinking Education for Indigenous Population Through Socio-Cultural Sustainable Education Framework

6. Mohamad Faizal Abd Matalib

Islam and the Environment: The Challenge of Developmental Politics in Malaysia

0910 – 1130
7th Parallel Session "Religion"

Venue: Delima Meeting Room, CenPRIS

Chair: Prof. Dato' Dr Ahmad Murad Merican

PANELISTS:

1. Jeffrey Kenney

Teaching about the religious other in multicultural Malaysia

2. Seyyid Hassan Hoseini

Islam and other religions: Islamic Attitudes Toward the Religious Others

3. Levy Lara Lanaria

A Theology Of Peace And Human Dignity Grounded On The Filipino Concepts Of Kapwa And Loob

4. Katyayani Singh

A Reflection on The Prince by Machiavelli: The Role of The Classic In Relation To Human Dignity

8th Parallel Session "Non Violence"

Venue: Nilam Meeting Room

Chair: Dr. Vidya Jain

PANELISTS:

1. Vidya Jain

Gandhian Political Strategies: Civil Society movements in Rajasthan

2. Siwach Sripokangkul, Therdsak Paijuntuek

The Military Draft: Torture and Human Rights Violations of Conscripts in Thailand: A Critique from a Non-Killing Global Political Science Perspective

3. Shahiuz Zaman Ahmed

Indian Philosophy of Non-Violence and Present Day India

4. Purna Bahadur Karki

Peacebuilding in Nepal

5. Senthan Selvarajah

Epistemological Grounding of Human Rights Journalism (HRJ) and Tracing Its Power

1130 – 1300
2nd Plenary

Populism in Asia and its Non-Violent Responses

Panel Coordinator:  Dr Janjira Sombatpoonsiri

Venue: Main Conference Hall, CenPRIS

PANELISTS:

1. Janjira Sombatpoonsiri

Rethinking Nonviolent Resistance in the Face of Rightwing Populism: A Theoretical Inquiry

2. Aries A. Arugay

When Populists Perform Peace: Duterte and the Retreat of Liberalism in the Philippines

3. Luky Djani

Populism in the Age of Market: Why Majority Become 'New Minority'?

1200 – 1300
Introductory Remark

Northern Corridor Implementation Authority (NCIA)

Venue : Main Conference Hall, CenPRIS

1300 – 1430
Lunch @ CenPRIS
1430
Post Conference excursion "Taiping Visit"
2200
Return to USM / Hotel
Dear Colleagues,
Time flies. It was almost two years ago when we started planning for the APPRA 2017 Conference and it is now just slightly more than a month before the Conference takes place. We have got good response so far and everything seems to be on track. Here is an update on the Conference.
The Theme of the Conference: 'Promoting Peace and Upholding the Transcendent Dignity of the Human Person in the Asia-Pacific Region'
Dates of the Conference: 23-25 August 2017
Venue: Dewan Persidangan Universiti (DPU), Universiti Sains Malaysia, Georgetown, Penang, Malaysia
Supporting Programme:
Poster Exhibition on the theme 'Seeds of Hope' at USM Museum, 23-27 August 2017
Visits to Ghandi Peace Institute on 22 August, Streets of Hope on 24 August and Taiping Museum on 25 August 2017. Transportation, Meals and Guide provided. You may choose to attend one and all or none at all! We are assuming that everyone is coming along but if you are not, for whatever reasons, please inform us early. Datuk Anwar Fazal is organizing the above visits. Here are some of the details you should know.
SITE VISITS/TOURS
The following three tours are being organised and it will be assumed you will be attending. If not, please inform the organisers below. All the tours are free of charge and include refreshments as a gift from the supporting organisations. PLEASE INFORM US IF YOU ARE NOT COMING AS WE DO NOT WANT TO CREATE ANY WASTE.
(A). VISIT TO THE PENANG GANDHI PEACE CENTRE (PGPC) AND THE YOUTH ADVENTURE PARK
Tuesday, 22 August 2017 – 4.30pm to 7.30pm
The Penang Gandhi Peace Centre (PGPC) is at Waterfall Road next to the Botanical Gardens. It is a symbol of Mahatma Gandhi's vision and action for making a sustainable, just and peaceful world. It is more than a promotion of Gandhi `s values and beliefs; it is also to practice it and take it into action. The launching of the PGPC is a tribute to the amazing work of Gandhi at a time when the world is challenged before by violence, conflicts, wars and increasing racism and bigotry. Once, he stated that; "Be the change that you want to see in the world", and so the PGPC wishes to be a platform for teaching and sharing ideas for changes that we want to see in the world. The visitors will be putting up a symbol of Peace.
The Penang Municipal Park or Taman Perbandaran Pulau Pinang, is a huge park at the edge of George Town and next to the PGPC. Better known as the Youth Park, this recreational park for the people of Penang is accessed by a single one-way route, entering through Persiaran Kuari. The Municipal Park was born from quarry land and was created in the early 70's, to provide a recreational area for youths. In its earliest incarnation, the Youth Park, as it was called at that time, had a skating rink (which it still has) and an outdoor auditorium. There was also a place for archery and hiking. No matter the season or reason for your visit, this national historic landmark is a setting for enjoying many pursuits: Jogging Track, Children Playground, Archery Range, Skate Park, Graffiti Park, Camping Site, Mountain Bike Tracks, and much more! It has also a historic Peace Park.
(B). TOUR OF THE "STREET OF HARMONY"
Thursday, 24 August 2017 – 4:40 pm to 9.00pm
The Street of Harmony is the celebration of diversity through various religious institutions side by side. That street is called Jalan Kapitan Keling (formerly Pitt Street) and now celebrated worldwide as a model of religious and cultural harmony. As you journey through the Street of Harmony, you walk the oldest and most historical path trodden by the diverse people who came from the far reaches of Asia and Europe 200 years before. You cannot escape the sense of cultural multiplicity that confronts you here in the form of sounds, sights and smells. The street is home and workplace to generations of settler families. It is home to many outstanding religious sites where historical communities find solace. It lends itself to a plethora of religious and secular festivals and celebrations all year round. This street is shared by all. It epitomises the cultural coexistence of George Town's diverse communities. The following religious institutions will be visited; St. George's Church, Goddess of Mercy Temple, Sri Mahamariamman Temple, Kapitan Keling Mosque and the Khoo Kongsi. Dinner will be at the Masjid Melayu Acheh where we will be hosted.
(C). VISIT TO TAIPING, THE TOWN OF EVERLASTING PEACE
Friday, 25 August 2017 – 2.30pm to 10.00pm
The town of Taiping (which means 'everlasting peace' in Chinese) was born out of desire for peace and harmony some 150 years ago. It is located south of Penang some 70 kilometres away and a fascinating history of war and peace. It was a new town specially built to mark Peace. The town was once called the 'Tin Capital' of the world. It is a town of splendid beauty, of natural habitat with a setting of a lake, rivers and hills. It is also full of cultural diversity and a fascinating urban heritage. Taiping is located in the state of Perak in Malaysia. It is some 70 kilometres south of the beautiful and famous island of Penang. The town has many Malaysian firsts, among them Malaysia's first railway (from Taiping to Port Weld), the first modern prison, the first museum, the first hill resort (Maxwell's Hill, now knows as Bukit Larut), the first Lake Garden. It has many delightful tourist sites. Taiping is also home to a Commonwealth War Cemetery, dedicated to many war victims. It is one of best kept cemeteries in the region. They have a Peace Park and a Peace Avenue with a series of Peace Poles and stone write-ups of words "May Peace Prevail on Earth". The discussion on a Peace Museum in Taiping will be held and dinner will be served there.
We will assume you will attend all the above site visits. If you are not able to, kindly email to

[email protected]
Main Programme: Pending confirmation on a few things here is the tentative programme that we have in mind.
(Tuesday)22 August 2017
Arrival of participants
Tour
(Wednesday)23 August 2017
Opening Ceremony – Speeches by Director, CenPRIS, the two Co-Secretary Generals of APPRA, Representative of Soka Gakkai Director of Japan Foundation Kuala Lumpur (tbc), and Vice Chancellor of USM.
Poster Exhibition/Photo Session/Refreshment / Press Conference
1st Keynote – Kevin
1st Plenary – Patrick Hiller (Olivier, Yoko, Aslam Khan, Ikeo and Jude)
2nd Keynote – Chaiwat
2nd Plenary – Janjira (Ajay, Aries and Luky)
4:40-5:40 pm APPRA General Meeting
8:00 pm Dinner Reception
(Thursday) 24 August 2017
3rd Keynote -Kodama
3rd Plenary – Yamane(Chang/Kim,Wang, Roy, Murad)
4th Keynote – Datuk Anwar Fazal
4th Plenary – Kamarulnizam (Nasharuddin/Sabur)
APPRA Council Meeting
SOH Walk
(Friday) 25 August 2017
5th Keynote -T.S. Dzulkifli
5th Plenary – Mahazan-Mizan (Hood and others)
Open Dialogue- Arai & Omar (Mohideen, Cik Gu Azmi,)
2:30 pm Leave for Taiping
10:00 pm Return to USM/Hotel
Parallel Sessions.
Parallel sessions will also be organized. Participants will have to register before their papers can be slotted into the various Parallel Sessions which will be held concurrently with the Plenary Session.
Registration Fee.
We have decided to extend the deadline to the 31st of July 2017 but payment has to be made via bank transfer. We urge those who have not done so to do so soon. Unfortunately we have not been allowed to do on-site cash collection of registration fees as this is the university regulation.
Full Papers.
As advertised earlier we expect the full papers to be submitted before the end of July 2017. If you cannot comply please do not worry you can still make a verbal presentation but your paper will not be included in the Programme Book we are preparing.
The length of the paper should be around 6,000 words. As we intend to publish the papers we will duly inform you of the format preferred soon. We expect to give you 2- 3 months after the conference for the revision of your paper if you need to do it.
Participation without presentation.
We welcome anyone wishing to participate in the Conference without wanting to present any papers. However, registration fee is compulsory. Please pay using bank transfer. We have already given the details earlier.
Accommodation.
We expect you to make your own arrangement.
Weather in Penang.
Hot and humid all year round but pretty breezy on campus which has garden-like environment!
We look forward to seeing you soon.
For information about the registration, abstract submission and general questions about the conference, please contact
Conference Secretariat:
Centre for Policy Research and International Studies (CenPRIS)
Universiti Sains Malaysia
11800 USM, Penang
Malaysia
Tel: +604-653 2456
Fax: +604-658 4820
Website: appra.net , cenpris.usm.my/index.php/appra2017
E-mail: [email protected] or [email protected]